McTominay tug of war success pays another dividend
BBC Scotland looks at the rise of Scotland hero Scott McTominay after Steve Clarke's side topple Spain. Scott McTominay, a 21-year-old midfielder from Manchester United, has scored four goals in two games for Scotland this season. His international debut came in a dismal defeat by Costa Rica, while his timing and finish had the predatory instinct of a seasoned striker. His performances have been consistent throughout the Scotland team, and he is now using his energy to do as well as he can for Scotland. His goal for the national team has been capped at 39 times, and two games into Group A have earned him two wins and two wins.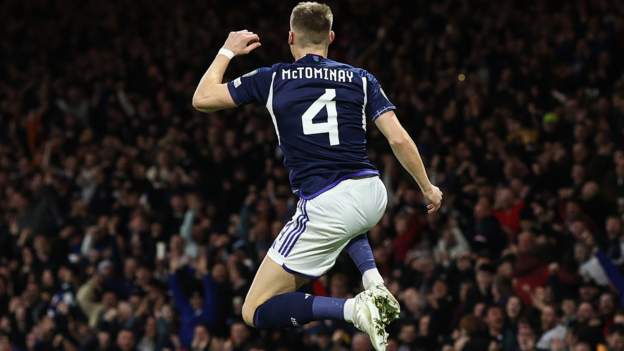 Published : 2 months ago by in Sports
In February 2018, a moment of national importance was taking place in Greater Manchester.
Inside, though, a tug of war was about to be won.
At one side, you had Gareth Southgate, the England manager. At the other was his Scottish counterpart Alex McLeish. The prize? A 21-year-old by the name of Scott McTominay, whose international allegiance hung in the balance.
What Southgate didn't bargain for, though, was that McLeish also had then-United boss Jose Mourinho and Sir Alex Ferguson keen to have a quick word with the English-born midfielder.
Suffice to say Mr Southgate didn't stand much of a chance.
Fast forward five years and four goals in two games, and McTominay is a national treasure helping a rampant Scotland - hopefully - plot a course towards Euro 2024.
• None Podcast: 'There's no reason this team can't get to the Euros'
As a youngster reared in the Manchester United academy, the man with a father from Helensburgh was originally gifted his first United contract as a teenager. In terms of vouching for someone's ability, that'll do.
"Sir Alex Ferguson was keen for Scott to play for Scotland as well. He was up front about it," his grandfather Frank said in 2018.
"Sir Alex has been very good with Scott over the years. He gave him his first contract with Manchester United when he was 16 before he retired and then made sure it was extended when he was 18. He seems to get on well with him."
You just wonder what his old mentor would have thought watching his young protege blaze a trail Spain could only dream of stopping. In a sizzling performance as Scotland barnstormed their way to a 2-0 win, McTominay had ice in his veins.
His international debut came in a dismal defeat by Costa Rica not long after McLeish's Carrington sojourn, but from a modest start McTominay's reputation in a Scotland strip has swelled.
Scenes were set off in October 2021 when he bundled in a last-gasp Hampden winner against Israel for his first goal. Another two were added against Cyprus on Saturday in yet another finishing masterclass.
And on the occasion of his 39th cap on Tuesday, McTominay excelled once more.
His opener after seven minutes had a slice of luck, while his timing and finish to put Scotland in a commanding 2-0 lead after the break had the predatory instinct of a seasoned striker. Given that's now four goals in two games, maybe add that to his growing list of positions?
"We did really, really well," he said on Viaplay. "We knew they'd have lots of the ball, and the manager said be clinical when we had the opportunities, and I thought we had enough opportunities to really hurt them and score some goals.
"As a kid, I was an attacking midfielder - I like to get in the box. I've got to keep doing that, I know I can add more goals and assists to my game.
"The manager said this is our chance to create legacies as Scotland players and these are the nights in 20, 30 years that people remember. We can't thank the fans enough."
It says so much about not just McTominay's character but his commitment to the cause that the now 26-year-old has it within himself to haul out these moments.
A favourite among the United support, regular starts have been difficult to come by and talk has been of a move away from Old Trafford. Despite that, his class has shone through for Scotland as Steve Clarke's side sit proudly top of Group A.
"Things happen in football that are quite weird sometimes. McTominay isn't getting a game for Manchester United and he's now using all his energy to do as well as he can for Scotland," said former Scotland manager Craig Levein.
"It's one of these things that's fallen into place. His performances have been incredible, he's got athleticism not a lot of players have got. He's bursting a gut to get into this position and it's worked for him, and for the team."
Now he and this Scotland team have a chance of building something tangible once more.
Two games into Group A and two wins have been earned. A new-look Spain seem disjointed - despite coach Luis de la Fuente's claims to the contrary - while the gift of Norway missing Erling Haaland will be gratefully received by the Scots who already stand five points ahead of them.
However, not until a trip to Oslo has been navigated in June and Georgia's visit to Glasgow has been taken care of will the Tartan Army truly dare to dream.
It may be just the start for Scotland, but what a start it is.
---
Topics: Football